Moroccan argan oil is one of the most popular and talked about beauty products these days, and there's good reason why. This miracle oil is not only great for moisturizing your skin, but it also has several other skincare benefits, such as protecting your skin from the sun, improving acne, and soothing irritation or dermatitis. Not to mention that moroccan argan oil helps reduce fine lines and wrinkles over time with regular use. Here are 10 proven argan oil benefits that you can use to get glowing, hydrated skin every day without fail!
1) It Moisturizes
It moisturizes skin and keeps it looking smooth. It also creates a protective barrier on the surface that helps your skin remain well hydrated and prevents excess water loss.
Moroccan argan oil is a natural antioxidant which helps protect against environmental stressors such as pollution, UV rays, and other elements that can prematurely age your skin.
It also has powerful anti-inflammatory properties to help combat redness from blemishes or sensitivity from product use.
2) Prevents Aging
Moroccan argan oil also has anti-inflammatory properties. This not only keeps your skin looking more youthful and hydrated, but it can even reduce the appearance of fine lines and wrinkles. There are many ways to use morrocan argan oil for healthy hair and skin. It is especially effective as a moisturizer to soften dry skin from wind or harsh weather conditions. For example, you can rub a small amount into your hands before rubbing onto dry patches on the face or body after washing with soap or other cleanser to leave behind an extra protective layer of moisture. The result is supple, smooth skin that lasts longer than traditional lotions or creams because its effects last longer.
3) Nourishes Hair
Moroccan argan oil is rich in vitamin E, which is a natural emollient and antioxidant. The vitamin strengthens hair shafts and helps promote hair growth and reduce breakage. Plus argan oil can also be used as a face moisturizer to reduce fine lines around the eyes and wrinkles on the forehead.
4) Fights Acne
In many places across the world, argan oil has been used as a natural remedy to treat acne because of its anti-inflammatory properties. It can be used alone or mixed with other oils (such as coconut oil) and gently rubbed onto your skin. Research shows that by reducing inflammation and killing bacteria on the skin's surface, argan oil may also help clear up acne scarring. In fact, it's one of our favorite ways to get glowing skin year-round!
5) Reduces Wrinkles and Dark Spots
Wrinkles and age spots are among the most stubborn signs of aging. If you're looking for a more natural way to fight them off that doesn't involve Botox or laser treatments, this might be the option for you.
6) Treats Keratosis Pilaris
Moroccan argan oil is a powerhouse in the skin care world. A beauty editor swears by it: I have kp (keratosis pilaris) on my arms and I put argan oil on them every night before bedtime. It took about two weeks, but the bumps were noticeably smaller. She also says she's using it now as a facial moisturizer.
7) Heals Diaper Rash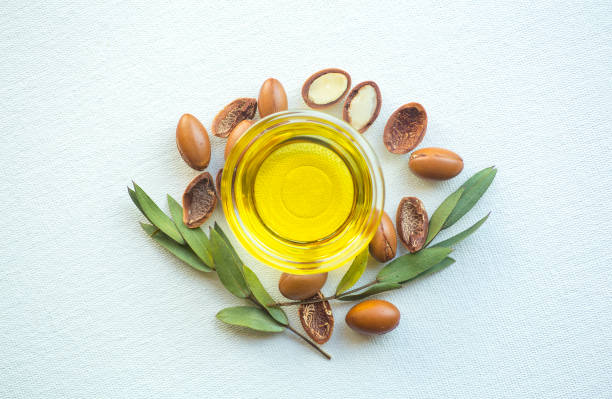 Moroccan argan oil is an excellent remedy for irritated skin. It calms inflammation, treats infections and soothes itchy skin from eczema and psoriasis. Use the product on your child to help heal diaper rash (among other irritations) fast. Simply rub a few drops of Moroccan argan oil onto the affected area before going to sleep and it will clear up within just a day or two.
8) Treats Dry Scalp
Dry scalp can often be a chronic condition that needs to be managed on an ongoing basis. A little argan oil can go a long way in soothing the itchy, flaky scalp and protecting the sensitive skin there. It works wonders by soaking deep into the tissue where it will produce all-day moisture and soften any brittle strands of hair with its rich nutrients. For those who suffer from seborrhea erythematosa (dandruff), this is a highly recommended treatment.
9) Helps Prevent Stretch Marks during Pregnancy

Moroccan argan oil is well known as a beauty product and it's easy to see why with its ten amazing benefits. One benefit of argan oil that many people may not know about is the fact that it can help prevent stretch marks during pregnancy. Women are more prone to getting stretch marks when their bodies expand rapidly with the growth of their child.
10) Overall anti-inflammatory properties
Moroccan argan oil is made from the kernels of the argan tree fruit and is rich in nutrients that are good for skin health. It contains high levels of vitamin E, omega 3 and fatty acids which help to heal wounds and moisturize dry skin. And with its powerful antioxidants it helps protect skin against the aging effects of pollution and UV radiation.